The Filzmoos AlmCard
This is how nature tastes!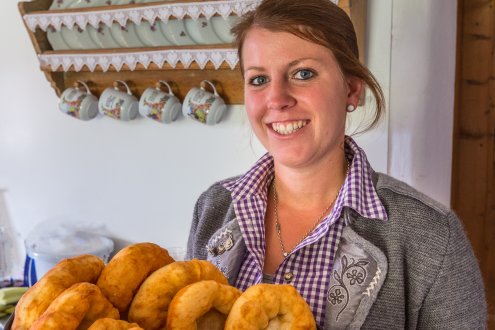 Welcome to the foot of the Bischofsmütze, to the picturesque mountain village of Filzmoos.
A hiking area that stretches from the Gerzkopf in the Neuberg district to the Dachstein massif. 200 km of hiking trails of all levels of difficulty are waiting to be explored.
Always the panorama of the Gosaukamm in front of your eyes. Right in the middle - the Bischofsmütze !
Everywhere you go, cosy and rustic alpine huts invite you to take a break - because every hike needs a destination. And if the food at the destination tastes as good as it does here in Filzmoos - then you have arrived.
A guest of the dairymaid. Looked after by the alpine farmers. And on the plate - a regional speciality of our area.
As a member of the "Filzmooser AlmCard", you receive the AlmCard as part of our "mountain and hiking experience" throughout the summer.
This means that if you stay with us for a week or longer, you can "er-Almen" an AlmCard speciality at our huts on every day of your stay (except the day of arrival and departure).
This promotion is valid for our adult or full-paying guests.
Our alpine delicacies - because that's how nature tastes!